---
---
CREATE UNFORGETTABLE MEMORIES AT THE LAKE
Stay with us at Pebble Isle for unforgettable Kentucky Lake camping! Our short-term campsites are located close to Pebble Isle Marina, overlooking beautiful Kentucky Lake. As well as 52 RV sites available for annual rentals, our campground features 3 RV campsites available all year round exclusively for short stays. These three sites are all available for Daily / Weekly Rentals up to a maximum of 21 days per visit. Each site includes full hookups with 30A / 50A / 110 V electric, water, and sewer.
The locations of our three short-term campsites (51, 52, 53) are shown on our viewable / printable map in yellow. You can conveniently view pictures and descriptions of the sites, check availability and reserve your site via our online booking pages.
---
Short-Term Site Pricing for our RV Kentucky Lake Camping
This table can be scrolled left and right on some mobile devices.
Period

Spring & Fall

(Oct 1 – Mar 31)

Summer

(Apr 1 – Sep 30)

Holiday

Weekends

Per Night
$40.00
$46.50
$55.00
7 Night Special
$240.00
$279.00
$313.00
14 Night Special
$480.00
$558.00
$592.00
Prices exclude TN Sales Tax (9.75%) and Booking / Transaction Fees (6.70%) which are added at the time of booking a campsite online.
Check-in time: 1 pm
Check-out time: Noon
Holiday Weekends 2023:
Memorial Day (May 26, 27, 28, 29)
Independence Day (June 30, July 1, 2, 3, 4)
Labor Day (September 1, 2, 3, 4)
Holiday Weekend rates apply to any single or multi-night reservation including a Holiday Weekend date.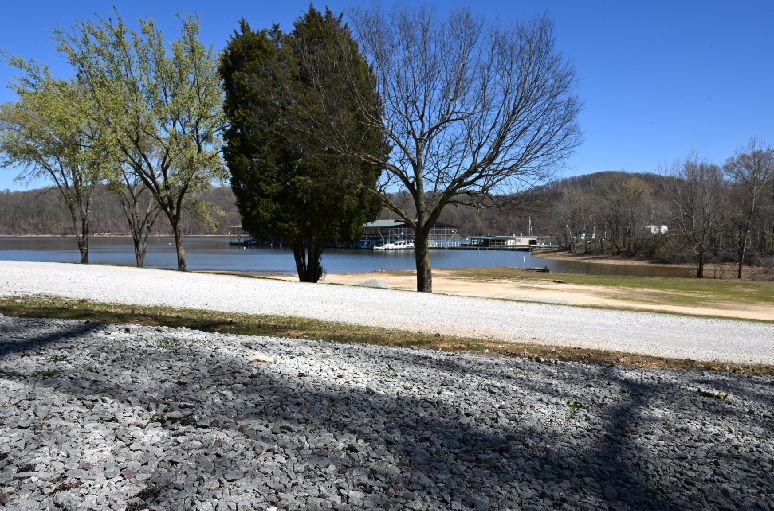 ---
Campground Amenities
Book your campsite at Pebble Isle today to start your adventure and enjoy amenities such as:
Our boat launch ramp is a designated area where campers can easily access the water from the campground. We ensure the ramp is easily accessible for all types of boats, whether your family plans to go fishing or just out for a bit of pleasure boating.
We have plenty of areas adjacent to our boat slips to launch kayaks and paddleboards for fun adventures exploring the local area.
Fishing from any banks within the Campground / Marina area. (Please note: For safety reasons, it is not allowed from boat docks.)
Complimentary WiFi is available throughout the entire campground. This is a convenient amenity for those who need to stay connected to the outside world, or those just looking to catch up on their favorite shows while on vacation.
The Ship's Store is a convenient floating shop that offers a variety of items that campers may need during their stay. This includes soft drinks, beer, ice cream, and other snacks, along with boating and fishing supplies. We also stock a wide variety of Pebble Isle apparel.
We have a convenient Bath House facility, including hot showers and coin-operated laundry facilities.
The Grey Heron Grill floating restaurant is open seasonally, typically from April to September for lunch and dinner Friday – Sunday. Enjoy great food and drinks on our outdoor patio overlooking the Pebble Isle Harbor. (Our Facebook and Google pages show current opening days / hours.)
The entrance to Johnsonville State Historic Park is close by, which allows campers to enjoy scenic walks from the Pebble Isle Campground through the park. The visitor center for the park is located at 90 Nell Beard Rd, New Johnsonville, TN 37134.
CLICK HERE TO VIEW PRINTABLE MAP OF CAMPGROUND
---
Frequently Asked Questions
How much does it cost to reserve a campsite? 50% of the overall payment is required to reserve a campsite, with the rest of the balance due on the day of check-in. Pricing varies by season, with discounts for weekly stays. Prices are shown on our bookings page for available dates.
Do you offer any special discounts? We offer a 10% discount for all Military personnel (Active Duty and Retired). Please use promo code MILITARY when booking your campsite, and provide your Military ID when checking in.
How can I check the availability of a campsite? Our online bookings page allows you to check dates for availability before booking your campsite.
Which campsites are available for short-term rentals? We have three campsites permanently available for short-term rentals (all shown in yellow on the campground map available on our pebble-isle.com campground webpage). Campsites 52 and 53 have lake views. Both of these are pull-in or back-in sites. Campsite 51 is a back-in or pull-in site on the edge of our main parking lot. Benefits of this site include being in close proximity to our Bath House and the Grey Heron Grill, and Marina Ships Store.
What size RV or motorhome can the available campsites accommodate? Campsites 52 and 53 are main campsite pads that are approximately 50 feet long by 20 feet wide. They will accommodate a camper or motorhome up to 45 feet long with slide-outs. Campsite 51 is on the edge of our parking lot and can comfortably accommodate a camper or motorhome up to 45 feet long with slide-outs.
What is the cancellation or booking change policy? Once a booking has been made online, it cannot be changed or canceled without contacting our office. You can call (931) 535-3827 or email [email protected] with details on your cancellation or requested change. We will endeavor to accommodate requests to change dates, subject to availability. Cancellations made within 48 hours of the first day of your rental forfeit any advance deposit paid. Cancellations made more than 48 hours from the first day of your rental will receive a full refund minus a $10 cancellation fee.
What are the check-in and check-out times? Check-in is after 1 pm Central Time on your first day and check-out is before 12 pm noon on your last day.
What is the check-in process? You can proceed directly to your campsite upon arrival and park your camper. After you are set up at your campsite, please come to the front desk in the Marina Ships Store to check in.
How do I check in if I arrive after hours? The check-in desk in the Marina Ships Store is typically open until 6 pm every day from Memorial Day to Labor Day (until 4 pm other times of the year). If you arrive late in the evening, please stop by the Marina Ships Store the following morning to check in.
Do you have early check-in / late check-out options? Options depend on whether the site is booked before or after your stay. Please email [email protected] or call the Marina Office at (931) 535-3827 to check if we can accommodate an early check-in or late check-out.
When are the Kentucky Lake camping quiet times? Quiet times are from 11 pm to 8 am, with partying or loud noises not permitted during those times. We request that owners use discretion when starting and running engines or generators, using radios, TVs, tape or CD players, and other amplified audio equipment so as not to disturb others.
What utilities are available at the campsites? Our campsites are all full hook-up, including 30A/50A and 110V electrical power, city water, and sewage.
Do you have bathhouse facilities? We have a Bath House, including hot showers and coin-operated laundry facilities (washer and dryer). The Bath House does require a code for entry, which you can pick up at check-in. If you expect to arrive after hours, please email [email protected] or call during normal business hours and we will provide the code.
Are pets allowed in the campground? Pets are permitted only if they are controlled and do not disturb other visitors. All pets must not be allowed to run free at the campground. Pets must be on a leash when not confined to the owner's RV. Pets should be toileted only on grass areas within the campground and marina. Owners are responsible for cleaning up any waste left by pets. Pets are not to be tied outside of your RV when you are not in the campground and should not be left unattended at any time.
Do you have WiFi in the campground? Yes, we offer free Wifi in the campground.
Do you allow golf carts to be used in the campground? Yes. Golf carts can be used in the campground area. We do not allow the use of ATVs, 3 or 4-wheelers, motorized scooters, or go-carts in the campground. Motorized scooters for disability mobility purposes are, of course, allowed.
How many vehicles may I have per site? Each campsite may have up to 1 automobile per site, provided you are not blocking other campsites. Parking is available for additional vehicles in one of our two parking lots.
Is fishing allowed from the campground and marina? Fishing is not allowed from boat docks but is allowed from any banks within the campground or marina area.
When is the Marina Restaurant open? The Grey Heron Grill restaurant is open seasonally, typically from early April to late September Friday-Sunday. Please check the Grey Heron Grill Google or Facebook page for opening days/hours.
Do you offer boat rentals? Yes. Pebble Isle Boat Rentals offers pontoon rentals. You can check availability and pricing at the Pebble Isle Boat Rentals page on our webpage and combine a boat rental with your camping trip.
What other attractions and amenities are close by? Local amenities and attractions for your Kentucky Lake camping stay (with approximate distances from Pebble Isle) include:
Johnsonville State Historic Park (within walking distance)
Johnsonville State Historic Park Visitors Center (2.4 miles)
Walmart Supercenter in Waverly (8 miles)
Loretta Lynn Ranch (18 miles)
Nathan Bedford State Park (20 miles)
Check out attractions in the nearest cities of Waverly (10 miles) and Camden (13 miles) and restaurants as well in New Johnsonville, Waverly, and Camden.
For any other questions:
Please email [email protected] or call (931) 535-3827