Great location in the heart of Tennessee
Pebble Isle Marina is a family run business located in heart of Tennessee. We pride ourselves on being a great stop for boaters in Tennessee, either as your main dockage or while enjoying trips through the great state of Tennessee! This page includes information on what we have to offer, which we hope will prove useful as you plan your stops!
Reservations
Pebble Isle Marina is an ideal spot for Loopers as well as for Long-distance cruisers. We are protected by a peninsula right off the main channel to the Tennessee River. This provides us a safe harbor for travelers touring the area. With an 800-foot transient pier, we have plenty of space for visitors. Reservations are not required, but we recommend that you call ahead a day or two in advance to let us know you are coming! You can reach the Marina directly at (931) 535-3827. You can also book online via Dockwa.com
On the Radio we monitor: Channels 16 and 68.
The Marina office hours are: 8am – 4pm (often later)
Fuel—Gas & Diesel
Here at Pebble Isle we have a 100-foot fuel dock, but have been able to efficiently accommodate boats up to 140'! We do have 3 Gas pumps offering Ethanol-free gas. We also have a High-speed pump, as well as a regular standard size for all diesel applications. We focus hard on keeping our fuel prices competitive for transient visitors, including a 10 cents a gallon discount to all Tow Boat U.S. and AGLCA members. Please don't hesitate to call ahead to check out our fuel pricing and have our Harbor Master Billy clear the fuel dock for your arrival!
Transient Rates
Per boat foot slip rates: $1.25 night/ $6.50 weekly with electric included. Monthly rate is $13.75 per foot per month and electricity is metered.
All transient dock space at Pebble Isle is uncovered.
Special Discounts are available to AGLCA Members. Please mention your AGLCA membership number when booking directly with marina, or add note of Membership Number along with special AGLCA discount code when booking via Dockwa.
Shower & Laundry
We do have very clean, well-maintained restrooms with a bath house supplied with plenty of hot water for showers! The laundry is also located in the same building, with coin-operated washer and dryer available.
Mailing Packages
Visitors are welcome to have packages sent to the marina for pickup on your arrival. We request that you call ahead and let us know that you are expecting a package to be delivered in your name. Packages can be addressed to you c/o Pebble Isle Marina, 2120 Old Johnsonville Rd, New Johnsonville, TN 37134. The Marina office is open every day, with UPS, FEDEX, and USPS, if they have a scheduled delivery generally stopping by at 10am, 12pm, and 3pm respectively depending on their own schedules.
Courtesy Vehicle Sign-Up
We have a courtesy van here at the marina available for the use of visiting guests. We request a two-hour time limit on all trips to ensure we can accommodate all visitors (in slower periods more time may be available), and request that all participants replenish the tank with fuel used. Please talk to the Marina staff about "Doubling up" on trips to town. This is a great way to meet fellow loopers and travelers!
We are located in between two towns, Camden and Waverly. Both have adequate grocery stores and restaurants. Please talk to the staff about some good "Local options"!
Our Restaurant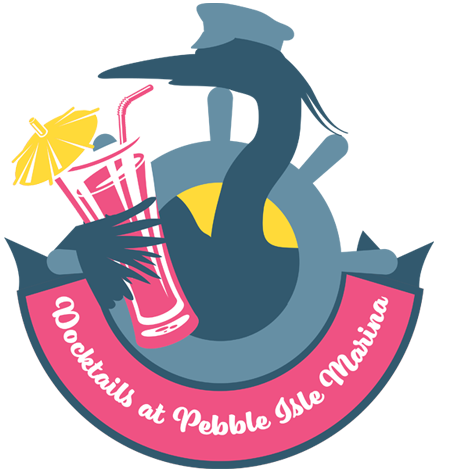 The Grey Heron Grill is our floating waterfront Restaurant. It is located just next to the transient dock, sitting on the water. The menu has a nice selection and good variety of family style comfort foods, along with a wide selection of drinks including beer and docktails. The restaurant is typically open during April to October (check Google and Facebook page for latest opening days/times). We have both indoor and outdoor seating available. AGLCA members are also welcome to use the outdoor patio to relax when the Grill is not open. Stop by and enjoy feeding the fish and turtles that love to come up to the top of the water for a meal! And in the evenings, enjoy our beautiful Pebble Isle sunsets!
Ship Store
While we do keep a good selection of Marine parts and accessories on hand, what we do not have we can typically have overnighted in for you. If you know the part you need and are in a hurry, call ahead, and we may be able to have it arrive before you do! You can find oil, filters, hardware (bolts, clamps, screws), cleaning supplies as well as protectants. You cannot leave without picking up one of our famous Pebble Isle Shirts or Hats! We have a large section of colors and sizes. We also have soft drinks, snacks, ice cream, and beer available in the ship store!
Local Attractions
Johnsonville State Park
City of Waverly Area Attractions
City of Camden Area Attractions
Loretta Lynn Ranch
Nathan Bedford State Park